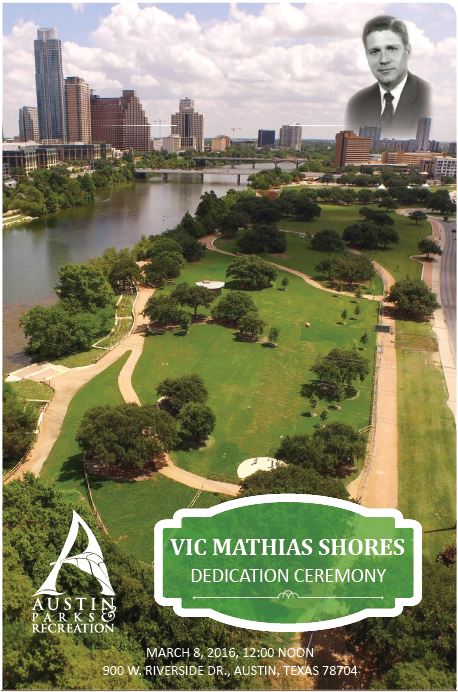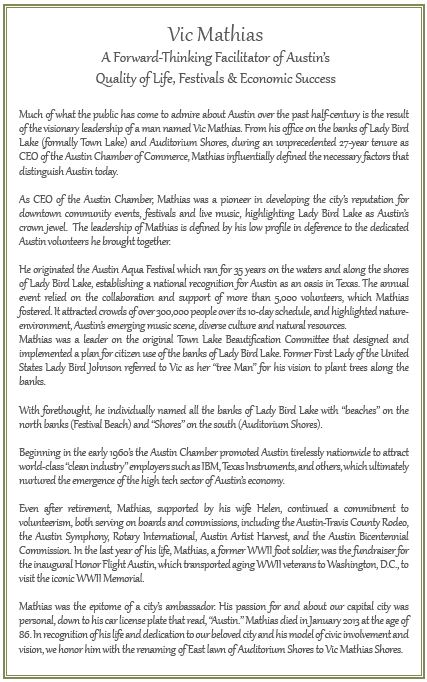 ---
After 86 years of faithful service to his God, family, country and community, 
Vic passed away on January 14, 2013.  Please read Vic's obituary.
---
 If you'd like to learn more about one of the true pioneers of the Austin business community, a great organizational manager, businessman and volunteer, then please read on.
Vic Mathias was Chief Executive Officer of the Austin, Texas Chamber of Commerce for 27 years, from 1957 until 1983. This was a time of tremendous growth for the Austin and the Central Texas area and Vic was instrumental in guiding Austin's economic development during this time (click here to learn more). He foresaw the need for a diverse business community to work in concert with the established state government and institutions of higher learning such as the University of Texas. This led him to recruit many high tech companies to the area.
He is also known for his monthly letter, "Thoughts While Thinking".  You'll find links to many of these pieces of wisdom here on the website.
For his family, Vic has also written over 175 vignettes about his life experiences titled, "THE WAY I REMEMBER IT".  You will find some samples below.       
 
---
Vic was a member of the inaugural Honor Flight from Austin to travel to Washington, D.C. to visit the World War II Memorial.  There were 24 other WWII Vets on board, and there are now over 3,000 Central Texas Vets that have taken 80 Honor Flights as a great reward for their service to our country.  Vic was instrumental in helping to get Honor Flight Austin started, and he continued volunteering so Honor Flight could give "the trip of a lifetime" to many many other deserving veterans over the years.
If you would like to recommend someone for a future trip, or donate so that other Vets can get their reward,  visit HonorFlightAusin.org.  This is a great way to honor the "Greatest Generation".
Thanks for visiting and enjoy the stay!
---
"THE WAY I REMEMBER IT"